Deal Or No Deal 90 Ball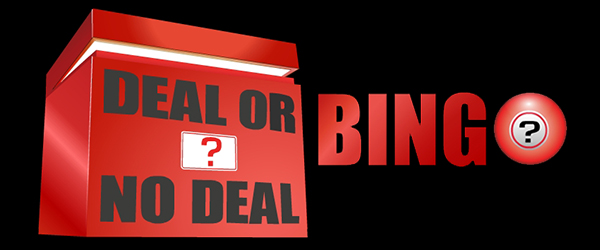 We can now boast that the eagerly awaited Deal or no Deal bingo room has finally arrived at Boylebingo! If you love the TV show there is no doubt you will love playing this 90Ball variant bingo game with all the excitement of the live show as well as the added thrill of playing the interactive game from the comfort of your own home! There are 4 fantastic prizes up for grabs; 1 line, 2 lines, full house and the Deal or No Deal Feature prize.
This 90 ball game will play out as normal, however certain balls will be allocated a Deal or No Deal box and prize amount. The bingo draw plays out until a full house winner has been determined. Once the full house winner is decided they will get the chance to play the Deal or No Deal feature game, this is where the Banker comes in! At this point the player can either Deal or No Deal by taking the offer or choosing the amount in the box!
So Roomies what everyone wants to know is what will you choose? To deal or not to deal that is the question!!